For Immediate Release –
A Time To Dance Studio is pleased to announce the addition of dance celebrity Peter Sabasino, a contestant from Fox Television's Hit Show "So You Think You Can Dance" to their team of experienced and talented instructors.  During a recent visit to Navarre, Sabasino decided to take a teaching position with the Studio.  Robert Kelley, co-owner of the Studio has continued his work to expose studio dancers to a great range of instructors and styles. "Our students have had the opportunity to travel to dance conventions in the Southeast to learn from instructors of Peter's caliber and we've offered intensive classes with a variety of celebrity instructors here at the Studio, but to have Peter teaching here full time will really bring a unique talent to the studio, especially our tap and hip hop programs."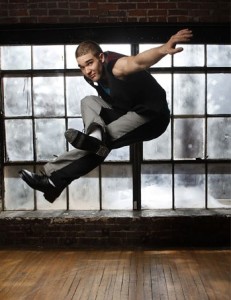 Sabasino brought his teaching talents to tap classes for the studio during an August weekend intensive with fellow SYTYCD contestant Victor Smalley, who taught lyrical during the session.  This was the summer wrap up to a host of dance celebrities who taught at the studio over the season including Robert Hoffman, Rustin Matthew, Cat Viger, Robert Lee, Ryan Confedero, Emma Bradley and Ashley Lewis.
Sabasino is thrilled to begin teaching the studio's Hip Hop and Tap classes beginning in mid-September.  "I am eager to share my passion for dance and all that I have learned throughout my dance career with these students who are willing to learn and work hard.  It's not just about the tricks, it's about the moments you create that touch the audience."
On September 14 from 12:00pm-2:00pm, A Time To Dance will be hosting a Meet & Greet featuring Peter Sabasino, which will be open to the public.
Sabasino began his dance training in Philadelphia, PA at the age of four.  While training in all areas of dance, it became apparent that tap was his home.  He continued his schooling at The High School for Creative And Performing Arts in Philadelphia where he studied Jazz, Modern, Ballet, Tap, African, Ballroom, and Broadway Jazz.  He attended Indiana University Of PA as a dance/theatre major while traveling back and forth to New York to take class at Broadway Dance Center. Sabasino continued training with greats such as Gregory Hines, Savion Glover, Barbara Duffy, Tyce Diorio, Wade Robson, and Laine Munroe. Sabasino's most notable achievement was landing a spot as a Top 16 finalist on "So You Think You Can Dance" Season 6, alongside Kathryn McCormick and Victor Smalley. He has since traveled around the world and the country to teach, choreograph and judge.  Sabasino has also been seen performing for Disney in live shows and commercials.
Registration for classes is ongoing.  Please contact the studio at 850-450-6919 for details.
To learn more about the A Time to Dance Team, as well as dance instruction for anyone ages 2 and up, visit www.ATimetoDanceNavarre.com or stop by the studios in Navarre and Gulf Breeze.
##
A Time To Dance was established in 2004 to provide the highest caliber of dance training to all students ages 2 and up at all levels, while developing confidence and self-esteem in a caring supportive environment. A Time To Dance provides the atmosphere and training that will nurture both the potential artist and the dance student who studies only for the inherent rewards of self-discipline, confidence, physical fitness and a greater appreciation of movement and music. The primary goal of A Time To Dance is to instill in the students proper dance technique while retaining their love of dance through positive and supportive teaching methods.  Studio locations in Navarre and Gulf Breeze.