FOR IMMEDIATE RELEASE – Three dance students from A Time To Dance studio in Navarre recently attended a CAMP PULSE workshop and earned accolades from some of the hottest choreographers in tween
dance today. Two won scholarships to further their dance studies in Las Vegas and New York.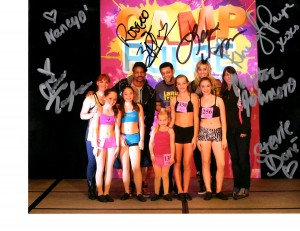 CAMP PULSE features choreographers from popular TV shows, music videos, and feature films. More than 700 young dance students attended the two-day CAMP PULSE held Oct. 22-23 in Mobile, Ala. Dancers from Navarre recognized at the event included:
Karlee Dillard, 13, winner of the only scholarship awarded to attend CAMP PULSE in Las Vegas, Nov. 19-20.
Megan Gragg, 13, winner of a scholarship to attend classes at Broadway Dance Center in New York City.
Caitlynn Funkhouser, 6, recipient of a "Rock Star" award.
The young dancers were honored by CAMP PULSE instructors, including Rosero McCoy (of MTV's America's Best Dance Crew and Disney's Camp Rock), Lane Napper (of Nickelodeon's iCarly and VicTORIous!), Nancy
O'Meara (of Fox's American Idol and Disney's High School Musical) and Kherington Payne (of Fox's Glee and So You Think You Can Dance).